Friendly Financial Services for You
---
A People-First Credit Union with Amazing Benefits
Pine Belt Federal Credit Union is a members-focused institution located in Hattiesburg & New Augusta, MS, dedicated to helping you save money and meet your financial goals. Applications for loans and membership can be filled out online quickly and easily! We offer savings accounts, loans, no-cost notary services, 24-hour ATM access, and much more!
Financial Services of Pine Belt Federal Credit Union
Checking and Savings Accounts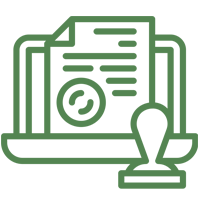 Our Services
At Pine Belt FCU, we offer several financial services for our members – nearly all of which are locals! From member share accounts to savings accounts to starter loans and more, each member benefits from multiple key advantages.
For example, we return our annual profits to our members through improvements to these services and dividends. Our members save massively since our fees are low and our savings account and loan rates are highly competitive. Most importantly of all, we treat each of our members as people, not faceless numbers.
About Pine Belt Federal Credit Union
As proud members of the Pine Belt area since 1942, we've provided high-quality and people-focused services for nearly 80 years! By offering competitive interest rates and high returns on savings, we safeguard our members' assets and give them the tools they need to secure a bright financial future.
Want to pay us a visit and see how we can help you? Visit one of our offices in either Hattiesburg or Leaf River today!
Contact Our Experts!
We make it easy for you to contact your Pine Belt Federal Credit Union representative at any time! We even offer an after-hours number reserved exclusively for our members who have debit card issues. Contact us using one of the phone numbers below!
Write A Review
After-Hours Contact Number
1-800-992-3808
This line is for those experiencing issues with their debit card.
For lost or stolen debit cards, please call